FaceTracking with clmtrackr and P5JS
From Digipool-Wiki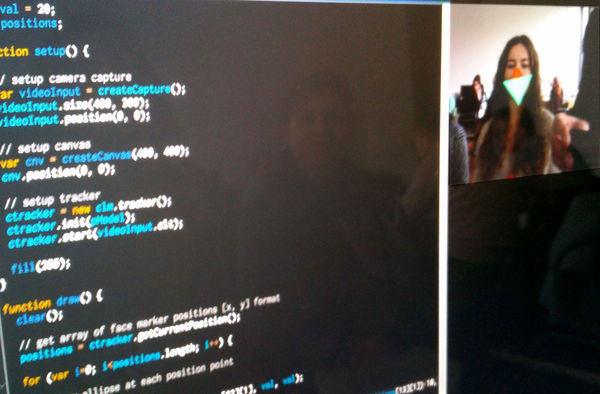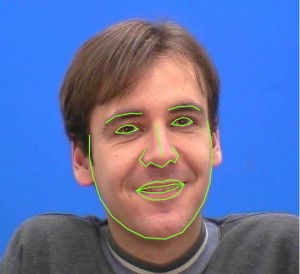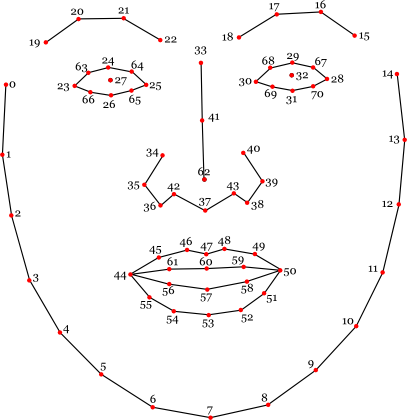 clmtrackr by Audun Mathias Øygard - LINK
clmtrackr is a open and free to use JavaScript Library for facetraking, which can be used with P5JS.
Tutorial how to use clmtrackr with P5JS by Lauren McCarthy - LINK
Instructions
Place library files in your sketch folder
Include the two files in the HTML header code with this two lines

<script src="clmtrackr.js"></script>
<script src="model_pca_20_svm.js"></script>

Alternatively, you can download the entire example as a package: Clmtrackr-p5js.zip
Have a look at the reference to edit your own code! - Reference
Run clmtrackr on the P5JS-Online-Editor
The easiest way to use clmtrackr is to use it in the p5js online editor.
Login to your own p5*js account to enable file upload. (top right)
SERVER OVER HTTPS must be enabled to access the camera

Click on the gearwheel settings icon top right
Go to SKETCH SETTINGS
Select SERVER OVER HTTPS
Run clmtrackr on your server
Attention! If you want to work on your own server, you need a domain that is protected by SSL in order to be able to access the camera.
P5JS Code


var val = 5;
var positions;

function setup() {

  // setup camera capture
  var videoInput = createCapture();
  videoInput.size(400, 300);
  videoInput.position(0, 0);
  
  // setup canvas
  var cnv = createCanvas(400, 400);
  cnv.position(0, 0);

  // setup tracker
  ctracker = new clm.tracker();
  ctracker.init(pModel);
  ctracker.start(videoInput.elt);
  
  fill(255);
}

function draw() {
  clear();
  
  // get array of face marker positions [x, y] format
  positions = ctracker.getCurrentPosition();
  
  for (var i=0; i<positions.length; i++) {
    
    // draw ellipse at each position point
    ellipse(positions[i][0], positions[i][1], val, val);
  }
}


HTML Code


<!DOCTYPE html>
<html>
  <head>
    <script src="https://cdnjs.cloudflare.com/ajax/libs/p5.js/0.5.11/p5.min.js"></script>
    <script src="https://cdnjs.cloudflare.com/ajax/libs/p5.js/0.5.11/addons/p5.dom.min.js"></script>
    <script src="https://cdnjs.cloudflare.com/ajax/libs/p5.js/0.5.11/addons/p5.sound.min.js"></script>
    <script src="model_pca_20_svm.js"></script>
    <script src="clmtrackr.js"></script>
    <link rel="stylesheet" type="text/css" href="style.css">
    <meta charset="utf-8" />
  </head>
  <body>
    <script src="sketch.js"></script>
  </body>
</html>