Difference between revisions of "Licht"
From Digipool-Wiki
Line 30:
Line 30:
 

* Kompatibel mit [https://www.sidus.link/ Sidus Link App]

 

* Kompatibel mit [https://www.sidus.link/ Sidus Link App]

 

* AC-Betriebsstrom: 8 A, 720 Wh

 

* AC-Betriebsstrom: 8 A, 720 Wh

 
+
 
+
 
 
−

Neupreis 2.080,- €

+

 

−

Seriennummer:

+
 
+
 
+

-

 
+
 
+
 
+
 
+
 
+
 
+
 
 
 

<br>

 

<br>
---
Revision as of 15:57, 11 August 2021
Kino Flo Gaffer 30 LED DMX Kit
LED Flächenleuchten-Kit bestehend
2x Select LED 30 Leuchte
2x 90° Richtgitter
2x Select LED 150 DMX Controller/ Vorschaltgerät
2x Montageplatte m. Bügel und 16 mm Zapfenaufnahme
2x Leuchtenkabel
1x Ship Case (KAS-SL32)
Neupreis: 5.313,00 €
Aputure LS 600D PRO
Hochleistungs-LED Scheinwerfer mit extrem hellen 22.150 lux@1m 105° so hell wie HMI-Brenner aber wesentlich leichter und langlebiger bei einem Verbraucht von nur 720 W
Bis zu 224.200 lux bei 1 Meter mit optionaler Fresnellinse F10 15° Spotlight
Abstrahlwinkel: 105°
Farbtemperatur: Tageslicht (5600K±200K)
4 Integrierte Dimmkurven (S-Kurve, Linear, Exponentiell und Logarithmisch
8 Integrierte FX wie z.B. Paparazzi, Blitz, defekte Glühbirne, TV, Atmen, Explosion und mehr
Unterstützt das aufladen der V-Mount Akkus an der Steuereinheit im Netzbetrieb
Integrierte DMX512 Steuerung
Integriertes WiFi 2.4GHz und Bluetooth 5.0
Kompatibel mit Sidus Link App
AC-Betriebsstrom: 8 A, 720 Wh
Neupreis 2.080,- €
Seriennummer:

Checkliste
LS 600D Pro Leuchte
Hyper-Reflektor
Fernbedienung RC1+
Halteklammer
5-Pol Hauptkabel, 3m
Neutrik powerCon AC Stromkabel, 6m
Steuereinheit
Hartschalen-Tragekoffer mit Teleskopgriff und Rollen
Aputure LS 300D PRO II
Checkliste
1x LS C300d MK II
1x Reflektor
1x Vorschaltgerät
1x Halterung für Vorschaltgerät
1x Anschlusskabel
1x Netzkabel
1x Umhängeschlaufe
1x Fernbedienung
1x Tasche
Dedolight DLED7 TURBO LED 3-Light Daylight Kit
3x DLED7-D (6-pin) dedolight focusing LED light head, daylight
3x DT7 (6-pin) Power supply for DLED7 monocolor LED light heads
3x DPLS Light shield ring
3x DBD8 Standard barn door (eight leaves)
2x DLSR70 Speed ring for CLASSIC Series and DLED4 light heads
2x DSBSXS dedoflex mini soft box 30x30x23cm (12x12x9")
2x DLGRIDXS Grid (40°), fits mini soft box
1x DP1.1 Imager projection attachment
1x DPGH Steel gobo holder (size 'M')
1x DPGSET Gobo set (six popular steel gobos, size 'M')
3x DFH Gel filter holder
1x DGW Gel filter set, warm tone (fits Classic Series filter holder)
1x DGMD Gel filter set, mixed diffusion (fits Classic Series filter holder)
1x DGCOL Gel filter set, color effect (fits Classic Series filter holder)
1x DFXSET Three structur glass filters with holder
DFXT6-R / DFXT10-B / DFXT11-P and pouch
1x CLAMP1 dedolight clamp
3x DST dedolight stands
1x DCHDW1 Hard case with handle and wheels
Größe: 57,9 x 46,5 x 29,7 cm
Gewicht: 19,90 kg
Neupreis: 4.103,80 €
Tecpro FELLONI Kit
Turbo TP-TURBO-BI Kit 3
3 x 155W
Bi-Color
576 LEDs
9000 Lux
Const SL-L60DT
SL-L60DT Bi-Color dimmbares LED Studio Light
2 Stück
10130Lux/60cm
Shooting Angle 60-degree
Power 60W
Color Temperature 3200K~5600K
Dimension 35 cm x 35 cm x 7 cm
Weight 3.78 kg
LED Light Bi-Color mit 4-Flügeltor
V-Mount Akkuplatte
Netzteil 100-240V 80W
Stativaufnahme
Transporttasche
LED-Studioleuchte CN-900 H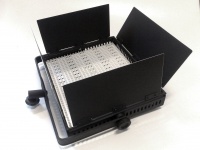 3 x Stück
Lichtintensität: ca. 8850 Lux (1 m), 2600 Lux (2 m), 1280 Lux (3 m)
Anzahl LEDs: 900 Stk.
Dimmer: stufenlose Anpassung der Lichtstärke von 5%-100%
Abmessungen (LxBxT): 46x45x5,2 cm
Farbtemperatur: 5600°K / 3200°K (mit Gelbfilter)
Gewicht: 2470 g
Betriebsspannung: 14-16,8 Volt
Energieverbrauch: 54 Watt
Illumination (LM): 5535 Lm
Stromspannung: 100 V-240 V
Sicherung: 10 A
Cineroid L2C-3K5K
Sehr kompaktes und helles LED-Kopf oder Augenlicht mit langer Akkulaufzeit. Cineroid L10C- 5000°K- LED Light mit wechselbarer panel 5K/3K
Hautmodul mit Lüfter und LCD-Anzeige
1 x Panel 5K
1 x Panel 3K
Kunstlicht
Hohes CRI (Farbwiedergabeindex)
30 stufigen Dimmer mit Anzeige
Eingangsspannung 6 bis 17V
Akku
Ladegerät
Lochmaske
Akkuhalterung
NANGUANG LED-Videoleuchte NG-160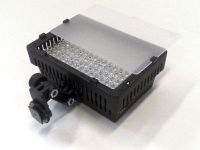 Mobile LED-Videoleuchte, geeignet für Foto- und Videokameras
Lichtintensität: ca. 900 Lux
160 superhelle LEDs
Dimmbereich: 5% -100%
Energieverbrauch: 9,6 Watt
Farbtemperatur: 5400°K/3200°K
Li-Ion-Akkus und Batterieeinsatz möglich
Gewicht: 245 g (ohne Akku)
Abmessungen: 141x62x150 mm
!Achtung – dieses LED Licht einen Wackelkontakt!